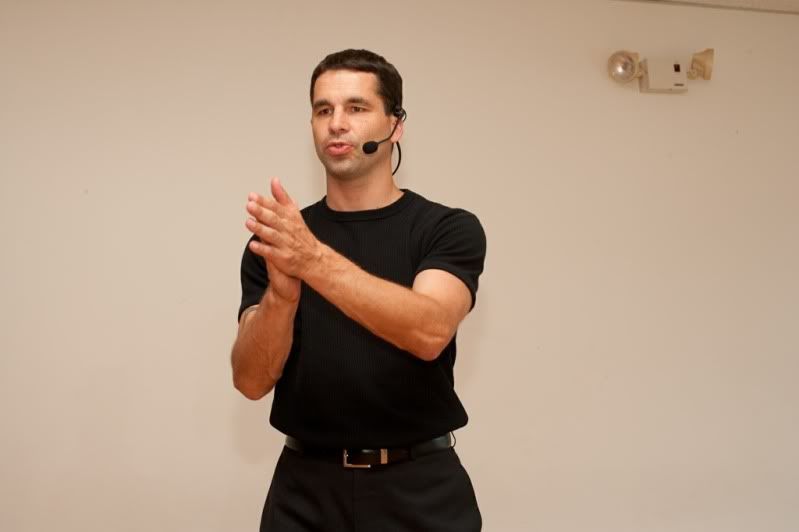 Have you ever wanted to do something so extraordinary that it seemed impossible?
Croix Sather will inspire you as he retells his amazing Run Across America journey and redefines the definition of impossible. Impossible is only impossible until the first person does it. He will share with you the lessons from this epic journey such as day 34 when he wanted to quit because the pain was beyond measure.

And on day 73 when he wanted to quit because he was bored and missing his children that he had not seen in almost three months. You will also cross the finish line with him on day 100 when his journey had ended and he had to face the question that media kept asking him, "What's next?"
This end-of-your-seat presentation will have inspired to dream bigger than you have ever before and you will run away with the three most important strategies to success.
Croix is also conducting a 90 minute workshop on fitness. Croix is the author of "BetterBody BetterLife in 2008". He will take you running with this workshop to show you exactly how to get the best from your fitness using the simple and fun method involving just two legs. He teaches fitness and weight loss by bringing people back to the basics and making it fun. Focus is on how to make it enjoyable (the psychology) so you stick with it.
Croix is an internationally celebrated author of three books and an inspirational speaker of personal transformation and success. He has hosted a radio show, and has appeared in hundreds of television, radio, magazines, and newspaper articles.
The media calls him, "Marathon Man" because in just one year he went from a casual runner to a 2,621 mile run across America, joining the ranks the most elite ultra-runners in the world. For 100 consecutive days, Croix ran a marathon distance, plus, each day he gave an inspirational keynote speech to at-risk groups like addiction recovery centers and Wounded Warriors.